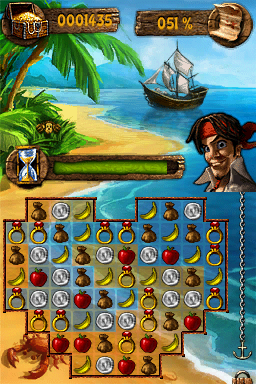 Der Nintendo DS ist eher bekannt für Knobel- und Denkspiele. Auch das kürzlich erschiene Jewels of the Tropical Lost Island fällt in diese Kategorie, ganz genau ist es ein Puzzle Game. Für das kleine Handheld sind schon einige Spiele veröffentlicht worden, und grade diese mit Anforderungen an das Denkvermögen sind sehr beliebt. Besonders Dr. Kawashimas Gehirnjogging entwickelte sich zu einem Verkaufsschlager. Doch auch andere Puzzlegames waren bei den Nutzern äußerst beliebt. Stellt sich die Frage, was Jewels of the Tropical Lost Island zu bieten hat?
Was bietet Jewels of the Tropical Lost Island?
Inhaltlich erbt der Protagonist des Spiels ein Segelschiff seines verstorbenen Opas. Der Spieler entdeckt ein Logbuch und kann diesem entnehmen, dass sein Opa in der Karibik mehrere Schätze vergraben hat, die er auf seinen Streifzügen mit dem gefährlichen Piraten Blaubart erbeutete. Natürlich machen wir uns auf die abenteuerliche Reise, um diese zu entdecken. Im Spielmodus findet man über 100 Level, in denen auf dem Bildschirm immer ein Puzzlefeld erscheint. Auf diesem sieht der Spieler aller Hand Symbole, aus denen man eine Gruppe aus mindestens drei oder mehreren Gleichen bilden muss. Dabei lassen sich immer nebeneinander liegende Symbole vertauschen. Hat man es geschafft, färben sich die Felder blau, die passenden Symbole lösen sich auf und neue fallen herab.

Letztlich gibt es zwei Varianten, dass Level zu bestehen. Zum einen muss man nur noch Symbole gleicher Art sammeln, zum anderen spielt man bis das komplette Puzzlefeld blau gefärbt ist. In beiden Varianten läuft die Zeit gegen den Spieler. Neben den klassischen gibt es auch Bonussymbole. Erhält der Spieler eine Bombe, wird diese beliebig auf dem Spielfeld positioniert. Nach dem zünden explodieren die anliegenden Symbole und das Feld färbt sich blau. Doch es gibt auch Negative. Felsen zum Beispiel versperren ein Feld und man bekommt diese nur weg, indem man sie an den unteren Bildschirmrand schiebt. Der Sound und die Optik passen zum Thema, dennoch hebt sich Jewels of the Tropical Lost Island im Großen und Ganzen nicht sonderlich von anderen Puzzlespielen ab. Allerdings ist das Piratenthema abwechslungsreicher als andere, die meist in Athen oder Ägypten stattfinden.





Jewels of the Tropical Lost Island ist alles in allem ein gelungenes Puzzlequiz. Von der Konkurrenz unterscheidet es sich vor allem in puncto Aufmachung. Wer seinen Nintendo DS gerne bei sich hat, und bei Gelegenheit in Denkspielen seine Herausforderung sucht, könnte Jewels of the Tropical Lost Island in die engere Wahl nehmen. Anzumerken ist allerdings, dass wahre Rätsel-Freaks vermutlich mit Blick auf den eher leichteren Schwierigkeitsgrad etwas unterfordert sein könnten. Für Anfänger und Gelegenheitsrätsler bietet es sich somit mehr an und dürfte dann auch nichtzuletzt aufgrund von netten Specials unterhaltsame Stunden bieten.